Windows Phone 7 Review and Windows 7 Phone Specs
Microsoft Windows Phone 7 is a truly slick, finger-friendly and first release of a modern smartphone operating system.
With Windows Phone 7 release , Microsoft finally sheds the baggage of past mobile failures and brings to market a truly slick, finger-friendly, fully modern smartphone OS. As you all know, Windows Phone 7 is a brand new mobile operating system. From the moment you turn it on, Windows Phone 7 looks good. Even the lock screen is colourful and useful at the same time, with a photo background you can customise, details of your next appointment and notifications for missed calls and new messages. Windows Phone 7 is a smartphone platform that's aimed first and foremost at consumers. It's designed from the ground up for a finger-driven interface. It's built to be clean, attractive, and consistent. The ambition is that it will finally give Microsoft a platform that will enable it to take on the iPhone and Android phones. Virtually everything that Windows Mobile did is now ancient history. Windows Phone 7 ushers in a new era of Microsoft-powered smartphones.
The most unique, Windows Phone 7-specific feature of the hardware is the hardware buttons. Although the user interface is predominantly touch-driven, the specification mandates a set of hardware buttons. The power, volume, and camera buttons are self-explanatory; it's the Start, search, and back buttons that will be the hallmark of Windows Phone 7 devices. These mandatory buttons are perhaps the biggest reason why, to the chagrin of many, devices that otherwise ought to live up to the Windows Phone 7 specification such as the HTC HD2, won't be upgradable, and will be lumbered with Windows Mobile 6.5 for the rest of their lives.
Notably missing from the feature list is support for CDMA and EVDO. CDMA support will arrive next year; at the moment, Windows Phone 7 handsets are GSM-only.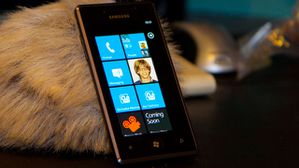 Then to choose the phone's theme and use a lot about the Windows Phone interface, which is vivid and engaging, whether you choose the white theme or the black, which saves power on OLED screens and sets off the ten accent colours well.
Most tiles take up a single space, but Pictures is twice as wide so that the photo it uses is big enough to enjoy, as is the Calendar so you can read your next appointment – and if you pin an artist you get a double tile so you can tell it's not an album.
Like pretty much any other smartphone, you pick the tiles you want to see all the time, for apps and tools and (more unusually) specific people and music or the six hubs that organise content (Music and video, Pictures, Games, People, Office and Marketplace).

Windows Phone 7 is a pretty OS with slick animations and fast performance. There are some issues that bug me about the operating system though and these include:
* No multi-tasking, results in lots of reloading.
* No cut, copy, and paste
* No custom ringtone capability
* Limited customizability on Start screen
* Lack of some key apps (Evernote, Kindle or Nook, and podcatcher)
* Office apps are pretty limited in terms of what you can do from the phone
* Inconsistency in auto rotation (especially lame with kickstand and then Zune always in portrait mode)
* Lock into Zune software for PC connections (no drive or file access)
* Lack of tethering support
* Lack of ability to capture screenshots
Many of these can be fixed with software updates (Microsoft already stated cut, copy, and past will indeed be fixed with an update very soon) and some with application releases. Especially for people who are huge podcast fans and would love to see Microsoft add support for discovering and downloading podcasts through the Zune integration.
Hot Product: Replacement HP 65W 18.5V 3.5A 4.8*1.7 3-Prong US Version with High Quality and Free Shipping